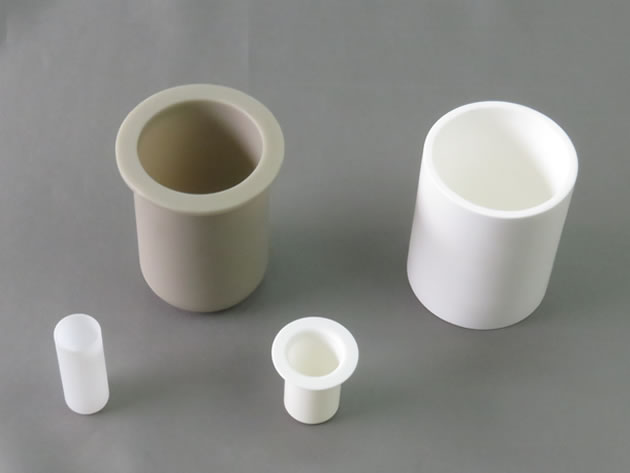 Speciality
・Thin thickness acceptable
・Very Smooth surface roughness than competitor item.
・Alumina
・Aluminum Nitride AlN-170, AlN-200
・Low cost
・Compare with p-Bn crucible ceramic crucible is reusable.
・1650℃ Max acceptable
・Custom made from 1pcs
・No mold fee
・JIS standard middle class
Usefulness
Metal evaporation crucible
Crucible for the OLED manufacturing process.
Crucible for Molecular beam epitaxy / epitaxial evaporation(MBE)
Crucible for analysis
Planchets
Translucent Alumina crucible
Inside of the crucible is visible.
Alumina 99.99% ceramic base
Maximum temperature 1,000℃
High purity Alumina 99.9% Thin crucible(For material heating, Deposition container)
NAC can produce high-quality Alumina/Aluminum Nitride ceramic crucible by any shape.

Nishimura can reach to very smooth inner/outer surface without any extra polishing fee.

In this case, we made a crucible by 99.9% alumina
Φ40×50L φ50×60L Both thickness 1mm
Alumina 99.99% ceramic Crucible (N-9000)
Alumina 99.99% ceramic crucible

Custom design crucible is possible to supply from 1pcs.
Aluminum Nitride crucible for OLED display producing
Nishimura's Aluminum Nitride crucible is used for organic light-emitting displays(OLED) producing.
Custom design crucible is possible to supply from 1pcs.

Nishimura's AlN crucible is also used as a crucible for evaporating an active metal such as Ag, LiF, Mg-Ag, and Al.

Compare with a carbon crucible or a p-BN crucible, AlN crucible has longer life time.

As a competitive point of AlN crucible, it has good electric insulation, high density, and high purity.
Aluminum Titanate crucible
Nishimura produces the Aluminum Titanate crucible which is used for aluminum melting process.

Custom design crucible is possible to supply from 1pcs.
Al2O3 99.9% crucible
| | |
| --- | --- |
| | Custom design crucible is possible to supply from 1pcs. |