Apatite Bio ceramic APA-90
We have made apatite bio ceramic ball(diameter 10mm) by CIM, and confirmed performance of Pearl core material(Patent No.2958579)
Please check SEM picture and properties below.
Left side of picture is original apatite ball, Right side of picture is after put into a pearl shell.
Sintered body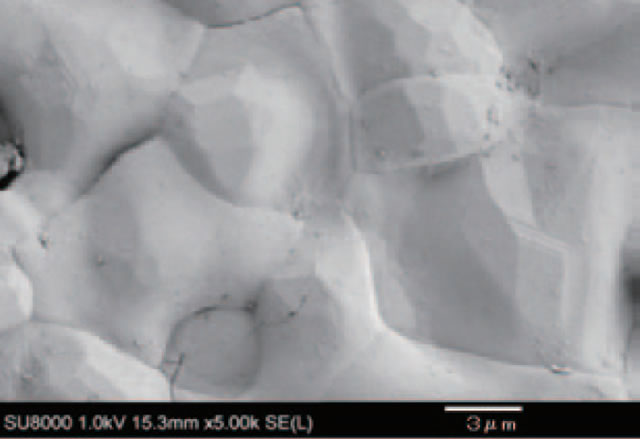 SEM picture(✕5000)
Nishimura No.
APA-90
Main Component
Ca3(PO4)2
Bulk Density
g/cm3
2.77
Bending Strenght
MPa
30
(Reference:Bulk density of pearl is 2.65)
Application
Pearl core material(Patent No.2958579)
Based on our testing, we have checked a performance of this material to become a core of pearl.
This material is expected to be used as a alternative bone.
Nano Powder
Pulverized sintered apatite by a bead mill and freeze-drying.
For apply to cosmetic/ toothpaste/Quasi drag, We took a safety test by JFRL(Japan Food Research Laboratories)
Safety Test
For apply to cosmetic/ toothpaste/Quasi drag, We took a safety test by JFRL(Japan Food Research Laboratories)
Subject

Researching Laboratories

Test Content

Test Result

Notes

Safety Test

JFRL

Acute toxicity test

(Rat,Both sexes)

(LD50)>5000mg/kg

5000mg/kg single dose, 14days




Observation, OECD TG420(2001)




conformity

Primary skin irritation test




(Rabbit)

(Primary irritating index)
0<Nonstimulating>


OECD TG404(2015)

ISO10993-10:2010 conformity

Agents for treatment of oral




mucosa(Guinea pig)

(Visual observation)

Not particular

Suspension 800mg/mL




4times/day×Straight for four days
CIM Apatite feedstock (Compound material for ceramic injection molding)
| | |
| --- | --- |
| | Mixed Nishimura's unique CIM binder with Apatite powder. Only thermal debinding is required, no liquid/chemical debinding. |