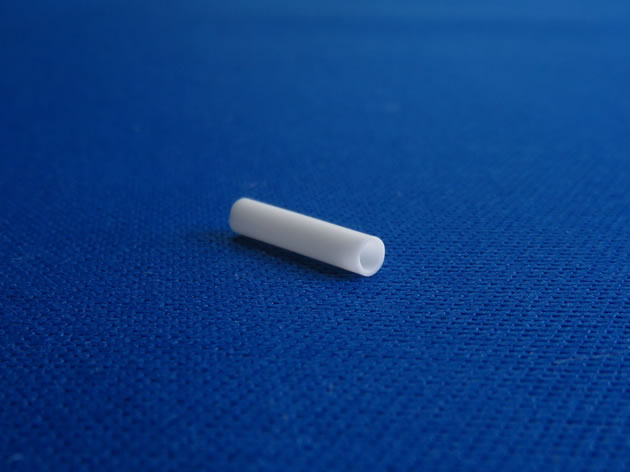 Alumina Ceramics small thin pipe φ2.4×φ1.8×12L Thickness0.3t
We can produce small diameter and thin pipe by high purity Alumina ceramics(purity 92%~99.7%).
Case introduction of the parts for high electric resistivity products
Nishimura's high purity α-Al2O3 products are used for high electric resistivity products also.
Usually general alumina product's electric resistivity will get bad in the high temperature condition.
(e.g. Volume resistivity 10-14Ωcm in the general temperature will be decrease to 10-12Ωcm in the high temperature condition)
However, Nishimura's ceramics is able to keep volume resistivity 10-15Ωcm.
Therefore, It is used for a thunder resistance parts and a sensor cover for high temperature.
Strong Point
It has great electric resistivity even its very thin since it is very fine grain alumina ceramics.
From raw material to forming, also firing, All made in Japan, All made in Nishimura Porcelain.
We don't supply any defect product based on strict quality control.
Order Production
We can fit to polishing finish
Usefulness
Protecting tube for temperature sensor.
Spacer
Insulation pie
Insulator for any kind of heater.